Woah! Exciting times are ahead in the cosplay arena! I am due to make various costumes for events such as EGX and Comic Con.
First up is EGX Birmingham being held in September. As I am primarily going to meet up with friends I thought that a full on cosplay may be a little much to walk around in but also I cannot waste another opportunity to dress up! Being a games convention I have tried to think of gaming characters that I like, Elizabeth from Bioshock Infinity would be a perfect choice and maybe I'll cosplay her later but for now I'm going to go as… Umbreon!
Pokemon are a huge resource cosplay wise. There are so many to choose from and you can play them anyway you like. This lady's full fur Jolteon won the Birmingham MCM Comic Con in November 2014 and is amazing. The suit itself had jointed limbs and could move its eyes. A well deserved winner but not something I want to sit around having a coffee in.
I decided on a more human Umbreon. Taking the main elements of the character, mainly the black coat and yellow circles, I have gone about making a suitable dress. The pattern I used was a retro wrap style from 'Gertie Sews Vinyage Casual' by Gretchen Hirsch.
From this I was able to make a base black dress and then embellish it with yellow sleeve cuffs and circles in felt.
I know I could have used a cotton material for this like the dress but I am trying to keep costs down and use what I already have. The felt I had left over from a Wildstar cushion I made last year.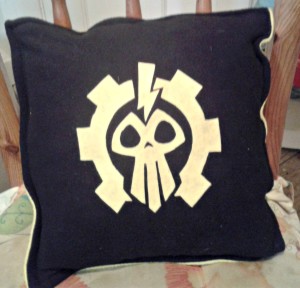 I am pleased with dress so far. It isn't a magical fit but I think I can get away with it. Everyone will be staring at my furry tail and ears instead I suspect. The making of which will be in my next blog post.
Apologies for the standard of the photos. I am not the best photographer in the world and my phone camera is not awesome. Hopefully you can still see what I'm talking about 🙂