So Christmas is over and done with so time to get crafting and make some new stuff!
The next MCM Comic Con in Birmingham is next march and I haven't sorted what I will go as but my eight year old son is thinking he may want to be Link. Having not played the games I'm a bit stumped as to what I could join him as. The natural cosplay would be Zelda. And here is the thing. I am beginning to notice how old I look in comparison to a lot of cosplayers I see. There are lots of wonderful costumes but I'm feeling uncomfortable about dressing as a princess or, quite frankly, any character that is regarded pretty or thin. I should not feel this way I know and it would be wonderful to feel that cosplay is one of the few places you can just be what you want to be. I still however feel that I would be judged as too old. This is a shame as I have found a hobby which encompasses a lot of the things I adore (anime, sci-fi, fantasy, Kawai).
I should just sod it all and go as Zelda as that is a costume I feel comfortable in doing a good job.
Anyhoo apart from my own confidence failings my son is getting into cosplay too and I made him a stormtrooper uniform to go with his First Order Helmet and Stormtrooper Rifle Nerf gun. We went to the November Comic Con and had a lot of fun. 
The armour was my first try at foam armour and was very basic. However the design of it makes it a very good starting point for anyone starting in foam armour. Especially for a child!
All I used was A4 sheets of white craft foam cut into approximate shapes of the amour. I trawled the internet for pictures of the uniform from all angles to get the shapes needed. Because of my sons size each A4 piece fitted on his thighs, calves, upper and lower arms quite well. The front and back pieces were A4 foam stuck together with black foam details.
My son wore a black under shirt and black leggings. I initially thought to stick the armour to the under outfit with velcro but this did not work as the velcro did not stick to the outfit well. I used snap fasteners instead, just having one for each armour piece so it fixed onto the under outfit and didn't fall off. I then used velcro on foam straps to hold the pieces onto each limb and on the torso. It seemed to work well with only mild tearing, even though we walked all over the place.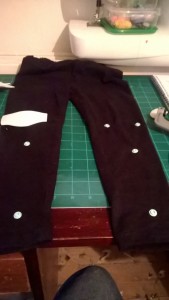 My son was very pleased with it and was immensely proud when he was recognised and photographed with the other more official stormtroopers.